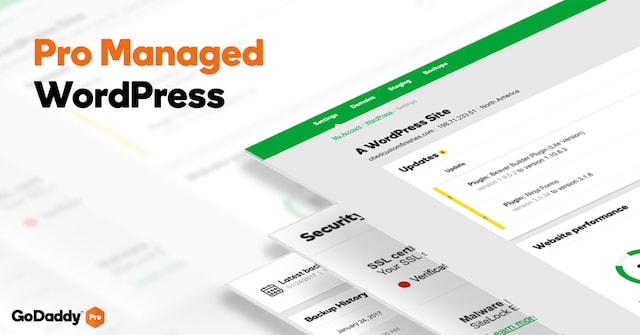 By CWP October 20, 2017
---
If you are a professional hosting multiple sites, there is now good news out of GoDaddy- they have expanded their managed WordPress hosting plans to include a new "Pro WordPress" platform. Their four plans range from managing one website at as low as $9.99/month, to up to 25 websites for as low as $99.99/month.
As leaders in their market, GoDaddy realizes that they have a responsibility to their customers, and to the WordPress community. Because of that, Gabe Mays, GoDaddy's Head of WordPress, explains that they spent 6 months internally building a concept of what they wanted this product to look like, before even writing a single line of code. Through acquisitions, and through tools that their team built, they built all these powerful components that are best in their class on their own, and pulled them together to launch a new program. Mays said, "it's not just about hosting anymore".
GoDaddy teased Pro WordPress at WordCamp Europe 2017. It uses PHP 7.1 as the default, Kubernetes container management, and gives each site isolated, dedicated resources. It's essentially a VPS.
MangeWP premium tools (GoDaddy Pro Sites) is also included, powered with 90 days of backups, a Gravity Forms license, staging site environment, scanning and monitoring powered by Sucuri, a library of 10,000+ free stock images, and free SSL automatically installed on every site, among other things. You can get all of this starting at $10/month. So what does this all mean for you? GoDaddy says you'll get more precise control of your clients' hosting plans, which enables you to provide them with a custom solution perfectly suited to their website. 
GoDaddy realizes that they still have work to do to earn your trust. For starters, this is how their span of plans ranging from 1 website at $10/month to 25 sites to $99/month, compares to others.  WP Engine's personal plan pricing starts at $25/month for 1 website to $249/month for 25 sites, Flywheel's bulk pricing starts at 10 sites for $92/month and 30 sites for $229/month, and SiteGround is at unlimited installs between $5.95-$11.95/month for any of its bulk WordPress hosting plans. Mays mentions that hosting millions of WordPress sites has allowed GoDaddy to pass on the savings to its customers.
"Our chief competitors are other hosts who serve Web Pros like WP Engine, SiteGround, and others," Mays said. "We differentiate in performance, quality, and value. For example, while our competitors serve their products from a shared environment, we don't. Our customers get a fully containerized environment with isolated resources. This delivers high performance and failover for high redundancy."
Last year, approximately 1/3 of all GoDaddy sites were running on WordPress.  And about half of all new sites signed up with WordPress. The GoDaddy WordPress customer base continues to outpace the growth of the market, and over the past few years, GoDaddy has been working hard to overcome their poor reputation in the WordPress community. WordPress-related products have been acquired during this time to boost their offerings in this space, including ManageWP (September 2016), WP Curve (December 2016), and Sucuri (March 2017).
Partnerships with Gravity Forms, Beaver Building, and WP101, in addition to the acquisition of ManageWP, WP Curve and Sucuri, have all been milestones in what Mays says is GoDaddy's ultimate goal- to become "a one-stop shop for WordPress professionals." The company continues to invest in the community by sponsoring WordCamps globally and supporting WordPress security team lead Aaron Campbell as a full-time core contributor.
---
Filed Under Category:
News
Via:
GoDaddy
,
WP Tavern
---